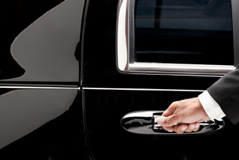 The wide range of the finest vehicles offered is able to provide you with the most comfortable transportation. We offer luxury sedans, stretch limos, and SUVs. All of our vehicles are less than three years old which ensures a carefree trip without any technical difficulties. Whatever your preference, we will make sure that the ride is smooth and without any hassles.  
Airport Service:
We offer airport transportation service. Going to and from the airport could be a very stressful experience, but it does not have to be. With our superior airport service you will arrive at your destination on time without unnecessary distractions, in a clean luxury vehicle.  
Hourly Charters:
A good option when on-demand service is needed. This is an hourly charged service which provides a chauffeur for you as long as required. You can travel from meeting to meeting without having to worry because your vehicle and chauffeur will be there waiting. A charter is perfect for traveling from destination to destination with a personalized feel.  
Special Occasions:
Any special occasion can have an added extra touch with our service. Traveling in a luxurious vehicle, with a professional chauffeur will provide peace of mind, and make sure you get to your destination in style.